In June 1961, President Truman's company, HST Associates, entered into an agreement with David Susskind's production company, Talent Associates, Ltd. By the terms of the agreement, Truman was to participate in the production of a series of hour long films about his presidency. Susskind produced two episodes, but was unable to sell his project to broadcasters, and abandoned it.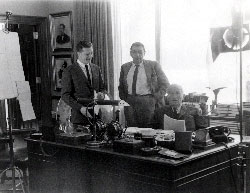 In early 1963, he sold the rights, film, and other materials associated with the Truman series to Screen Gems, Inc. At the same time, Independence Productions, Inc., the corporation that Truman formed to undertake the documentary film project, entered into an agreement with Screen Gems, Inc., to produce 26 half-hour television films about Truman's presidency. Independence Productions, Inc., is identified in the agreement as the holder to "the exclusive motion picture, radio, television, mechanical rendition and recording rights in and to" Truman's memoirs and Truman apparently considered the purpose of the documentary project to be to produce a film version of his memoirs. The Screen Gems, Inc., production crew began work at the Truman Library in May 1963.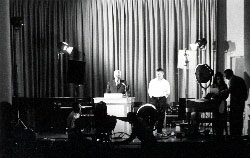 The 26 episodes that were produced, called Decision: The Conflicts of Harry S. Truman, were broadcast beginning in November 1964. By early 1965 the Decision episodes were being carried by television stations that reached about 70% of American households. In March 1965, American Cinema Editors named Truman the outstanding television personality of 1964.
Each episode of this series features President Truman looking back on his life and presidency and describing why he made the decisions he did.
Unfortunately, the Decision series is copyright Sony Pictures Entertainment, and the Truman Library may not reproduce any episodes without their consent. However, outtakes to the Decision series are in the public domain. Please refer to our Screen Gems Collection for more information.
Decision Series

EPISODE

TITLE

PROGRAM NOTES

Episode 1

"No Greater Burden"

Truman's childhood and early life, and his assumption of the presidency when Franklin D. Roosevelt died

Episode 2

"Butter and Guns"

The Truman Doctrine and aid to Greece and Turkey

Episode 3

"City Under Siege"

The Berlin Airlift

Episode 4

"Execution Without Trial"

The Nuremberg Trials

Episode 5

"The Plea"

The Marshall Plan

Episode 6

"At War With The Experts"

The founding of the state of Israel

Episode 7

"Man On The Spot"

The House Un-American Activities Committee, the McCarren Act, and Sen. Joseph McCarthy

Episode 8

"The Stacked Deck"

The Potsdam Conference

Episode 9

"Man On The Lid"

Post World War II inflation and price control

Episode 10

"The Squeeze"

Labor problems and strikes

Episode 11

"The Legend of Douglas MacArthur, Part I"

The life of Gen. Douglas MacArthur and his selection as the commander in chief of the United Nations forces during the Korean War

Episode 12

"The Legend of Douglas MacArthur, Part II"

The decision to cross the 38th Parallel, the meeting in Wake Island between Truman and MacArthur, and the firing of MacArthur

Episode 13

"Ring of Steel"

The rise of Communism and the formation of the North Atlantic Treaty Organization

Episode 14

"Man From Missouri"

Civil rights and the desegregation of the armed forces

Episode 15

"I Want My Daddy Back"

The demobilization of the armed forces after World War II

Episode 16

"Give 'em Hell Harry"

The 1948 presidential campaign

Episode 17

"And now - Citizen"

President Truman's retirement years

Episode 18

"The Smallest Nation"

The conflict between the Soviet Union and the United States in Iran in 1946

Episode 19

"Dialogue With the Future, Part I"

The decision to drop the atomic bomb

Episode 20

"Dialogue With the Future, Part II"

The decision to drop the atomic bomb

Episode 21

"The Greatest Gift in the World"

Truman's hope for a peaceful use for atomic energy and the development of the hydrogen bomb

Episode 22

"The Reluctant Ally"

America's relationship with Japan during and after World War II

Episode 23

"Police Action, Part I"

The beginning of the Korean War and the background of the conflict

Episode 24

Police Action, Part II"

The Korean War after the entry of the United States

Episode 25

"I am an American"

The assasination attempt on Harry S. Truman by Puerto Rican Nationalists in 1950

Episode 26

"Where Tillage Begins"

The Truman administration farm program, particularly the Brannan Plan